Are you living your magical life? What is your own idea of what makes a wonderful existence on Earth? And what are you doing to live that dream and work towards make your life more like your own ideal life?
There are always more stages in life that open up like a book to reveal more magical experiences that YOU love. But these always only start with one small step at a time!
What is it that REALLY gets in the way of us living our dream life?
I would like to share with you my story that starts 5 years ago in 2010 and ends up here with me, my husband and our baby daughter living an alternative lifestyle living life partly in our converted lorry travelling around. Society considers this "abnormal" but for us this life is full of nature, love, fresh air and plenty of new experiences!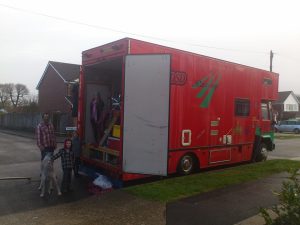 In 2010 I was a full time secondary school teacher of science in an inner city school. I wanted to make a change to peoples' live and help others and being a teacher was something I loved. However it consumed all my time and I spent very little at home or with my family and friends as I was out the door by 6:40am returning by 6pm and working in the evenings and weekends at home too! School holidays was taken up by marking coursework and planning schemes of work so I found I had very little  time for personal development even though I wanted to practise the Reiki healing I had learnt during my teacher training years before! Even family holidays or trips away for the weekend were limited. I really wanted my own loving family life all the time!! I was living the life I was expected to live by society – I had a house and mortgage and a full time job, paid my bills and taxes and felt as though I had little time or money left over for "me" to enjoy.  It wasn't a case of "not earning enough" but of focusing my life's energy onto what I thought I had to do as a good and proper citizen!
I was sadly also in a relationship where I wasn't emotionally supported to make changes happen easily in my life. I yearned to travel again as I had done in University going to Japan for a placement year. BUT instead of feeling as though I could change my job or travel I felt trapped by my job to pay the bills and my partner even said he "wouldn't allow" me to change jobs as it would be too unsettling!
I didn't really know it as I felt "quite happy" with my life, but I was in a rut!
Instead of making a change myself consciously, the change I craved happened unconsciously and my partner and I split up. This separation kick started my personal development to be more empowered and make changes happen consciously when I wanted to change. I was able to look at why I picked certain relationships that didn't make me happy. I was able to change jobs to a life where I had time to learn new skills and spend quality time with my family. I then took the plunge in making changes and made the biggest changes EVER! I moved to a new country and re-trained to be qualified Soul realignment practitioner and I then felt confident enough to finally set up my own business in the healing arts and psychic readings! I had been terrified of having my own business earlier in my life and now I finally had started, knowing I would always have my previous teaching qualifications as a way of earning money if needed.
It was not all plain sailing – big ups and downs letting go of old habits, old thought patterns and recognising when I was "quite happy" but not really fully feeling the zest of life I craved! This process continues and even now I know I need to reassess when I feel myself going through the motions but not really loving what I'm doing.
My biggest changes occurred in France after having my  own Soul realignment reading and revealing why I'd always had unhappy times in love relationships and why I'd always done what society expected of me instead of making my own heart's desires come true. I was shocked at what I had chosen for myself lifetime after lifetime and continually throughout this life. After making those first changes to travel more and give myself more time to develop and be me I was finally ready to zoom forwards into making my life more magical! Little did I know what was to come!
I met the man who would become my husband in France through my best friend and her partner. We fell madly in love, he was everything I thought was great in a person: funny, kind, sweet, generous, full of stories of exciting things he had done, hardworking and clever and sociable too. He proposed after 6 weeks together and I embarked on my new life and new adventure with him. Within a year of being together we had travelled back to UK, bought a boat, saved for our dream wedding by working hard together, got married and then conceived our first child!
We travelled together in our converted lorry and I tried out living "in the truck" as we  called it and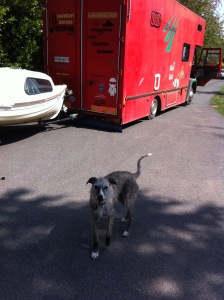 loved it! Living so close to nature and fresh air is completely wonderful. Having a new baby was a bit daunting for me without running water so we live at the moment partly in a beautiful bungalow and partly in the truck. I'm looking forward to visiting our friends in Europe in Holland, France and Spain in the truck and showing our baby girl many sights!