My relationship issues stemmed from many lifetimes ago (in fact 9 lifetimes ago!). I had got into a relationship but was unhappy and it was not a good match for either of us. It would have been frowned upon to leave the relationship in that time period- but I could have done so if I had chosen to and faced the public's opinion of me even if awkward I would have been happier! I had not wanted to go back on my vows of marriage as well as I had married young thinking all would be ok naively! Even though I had great friends and met other people who could have become my "Soulmate" partner I chose to stay in my unhappy marriage and for all my life then not experience loving romance and joyful companionship. Coming back into my life now I will describe what this has shown up like in this lifetime. Since I was a teenage girl finding my way with love relationships I always chose situations that made me feel deeply unhappy in love. Starting with hesitating to go after my heart and who I liked, then liking boys that would end up being rude or crude (so unlike my happy ways!) and then if I did find a boy who was nice I would end up thinking up some reason why it was "wrong" and make myself really unhappy so I couldn't enjoy it anyway! All because I was unconciously choosing for myself to be "unhappy" in love relationships.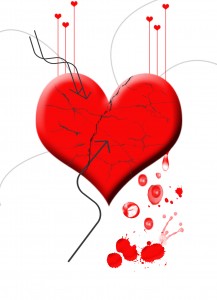 So it got worse when I started dating boys in long-term relationships "going steady". I was never quite sure how it happened but I always seemed to work really hard to win the heart of a man – only to find out he was completely unsuitable for me! How can it be? I thought to myself I am a good judge of character – I was always sensitive to what other people said/behaved like and I could pick up on peoples aura's if they were really negative. But even though I picked great girl-friends and had great mates around me I still picked boys that would not match my sensitive caring nature!
I used to explain it away to myself by saying "you can't help who you fall in love with" but I was actually choosing men who I would be incompatible with and who I would therefore make myself unhappy to be with them! I was doing it all to myself by picking them specifically!
My mind was always full of doubts about my relationship at the time. As if I knew it was wrong but couldn't see how.
To be honest by the time I was in my thirties I really wasn't sure why I had not been happier or "luckier" in love. But I was committed to living a happy life and achieving what I really wanted in life to look back on in my old age which was to have a family of my own and be surrounded by grandchildren and hopefully great-grandchildren! I didn't give up! I was set on finding out how to move forward and attract my soulmate and the journey started by working out what I was doing to make myself have bad relationships and I had to do a lot of work releasing the unhappiness with love AND replacing it with what I loved doing. Boy am I glad I took the time to go deeply inside myself and reflect on what I was doing to then be able to attract my Soulmate and husband and at the same time build a life doing my hearts desires instead of being unhappy in love!
I mentioned in my previous post here that I didn't recognise Steve as my Soulmate when I met him the first time because I was trapped by love in an unhappy relationship. But because I had done so much work in attracting to myself my hearts desires I manifested a meeting with him – in rural France no less! And I recognised that he was someone who would make me happy and not unhappy, someone I could travel with and be positive with!  I was given a second chance to step into a relationship with him and I grabbed it! And now we've been married two years this August with our baby Seren as the icing on the cake 🙂 and what a sweet delight it is having my family at last.
I'd love to help you go deeply into yourself releasing any unhappiness or other form of negativity that is specifically holding you back from attracting your soulmate to you and that is stopping you making your life how you want it with your hearts desires in it!
I've got just three spots for one to one VIP healing clients which I would love to invite you to apply for. Please click here for more details on how to do so.
To your shining love and positivity
Jennifer xxxx